Brot, Spiele … und Latrinen? Zur Darstellung römischer Stadträume im Computerspiel
Christian Rollinger

Universität Trier Fachbereich III - Alte Geschichte
Keywords:
Classical Reception Studies, Game Studies, Video Games, Computer Games, Caesar (Game Series), SimCity (Game Series), Roman City, City-Building, Urban Studies, Simulation
Abstract
German
Der Beitrag konzentriert sich auf das Phänomen der Antikerezeption in einem Medium, welches bislang von der 'seriösen' Altertumswissenschaft so gut wie keine Beachtung erfahren hat: das Computer- oder Videospiel. Anhand einer engen thematischen Beschränkung auf die Rezeption und Wiedergabe antiker urbaner Räume und der Mechanik antiken Stadtlebens im Computerspiel wird aufgezeigt, dass die Rezeption der antiken 'Wirklichkeit' zumindest bei der beispielhaft angeführten Videospiel-Reihe Caesar (Sierra Entertainment, 1992–2006), die zu den erfolgreichsten Vertretern des Genres der sog. Städtebausimulation gehört, weniger den historischen Hintergründen, als vielmehr den Bedingungen der Spielmechanik und des Genrekontextes verhaftet bleibt. Es geht hierbei aber ausdrücklich nicht (nur) um Fragen nach historischer und antiquarischer Genauigkeit bei der Darstellung antiker Stadtbilder. Stattdessen wird, inspiriert von dem sich immer weiter etablierenden Forschungsfeld der Game Studies, auch dem Entstehungskontext, Spielaufbau und Gamedesign eine kritische Untersuchung zuteil. Dabei zeigt sich, dass in der Reihe, wie auch bei anderen namhaften Vertretern dieses Genres (allen voran die von Will Wright entwickelte SimCity-Reihe [Maxis, 1989–2013]), zum großen Teil Vorstellungen und Theoreme aus der Entstehungszeit der Computerspiele tradiert werden, die ein antikoider Überbau nur auf den ersten Blick verdeckt und die aus der vermeintlichen 'Simulation' einer antiken Stadt das Spiegelbild städtebaulicher, sozialwissenschaftlicher und politischer Debatten macht, die in den Vereinigten Staaten der Reagan-/Bush-Ära, den späten 80er und frühen 90er Jahren, um die Gestalt und Zukunft US-amerikanischer Städte geführt wurden.
English
This paper focuses on the reception of antiquity within a medium previously not held worthy of a detailed scientific analysis in classical scholarship, i.e. computer and video games. After narrowing the field of investigation to the relatively small genre of 'city simulations' (and, of course, particularly those proclaiming to simulate an ancient city, namely the Caesar game series [Sierra Entertainment, 1992–2006]), it becomes evident that questions of game mechanics and game design were of critical importance in developing these games and, when in conflict with questions of historical accuracy, were invariably given priority. But rather than focusing exclusively on whether or not the depiction of, e.g., Roman buildings are archaeologically accurate, this paper, taking its inspiration from the emerging field of Game Studies, uncovers the underlying principles of play. It becomes evident that much of the game dynamics of Caesar are the result not of historical research, but of public policy debates held in the late 80s and early 90s on the nature and future of US cities. The same debates had previously informed the development of the SimCity game series developed by Will Wright (Maxis, 1989–2013), which was a primary inspiration for Caesar. Thus, political notions and sociological theorems of Reagan-/Bush-era Northern America inform the design and playability of video games ostensibly portraying – even 'simulating' – city life in ancient Rome.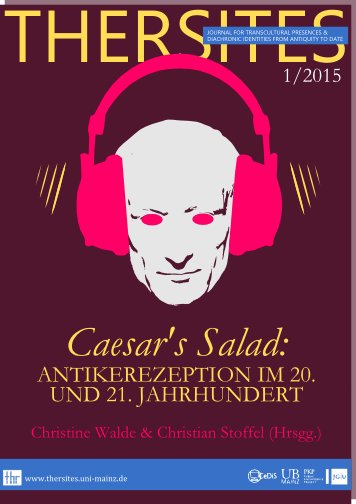 Authors who publish with thersites agree to the following terms:
Publishing in thersites is free of any charges.
Authors retain copyright and grant the journal right of first publication.
Users are allowed to read, download, copy, distribute, print, search, or link to the full texts of the articles, or use them for any other lawful purpose, without asking prior permission from the publisher or the author, so long as the original work is properly cited and is not used for commercial purposes. The journal is published under the Creative Commons Attribution 4.0 International License. More information about this license is available at https://creativecommons.org/licenses/by/4.0/.
Authors are able to enter into separate, additional contractual arrangements for the non-exclusive distribution of the journal's published version of the work (e.g., post it to an institutional repository or publish it in a book), with an acknowledgement of its initial publication in this journal.
Authors are permitted and encouraged to post their work online (e.g., in institutional repositories or on their website) as it can lead to productive exchanges, as well as earlier and greater citation of published work (See The Effect of Open Access).