The different faces of the Lernaean Hydra in contemporary pop culture: from cinema to video games
Keywords:
Videogames, Cinema, Hydra, Herakles, Pop culture
Abstract
The Lernaean Hydra is one of the most famous ancient mon-sters. As the opponent in second of the labours of Herakles, it has known a great success through reception since Antiquity. Through the centuries, the monster has known many evolutions: for example, it has grown horns and legs, some-times it even breathes fire! In this article, we will see how this mythological figure manifests itself in recent pop culture, es-pecially in the movies and video games, as well as why and how it has evolved.
References
Amandry (1944). – Pierre Amandry, 'Skyphos corinthien du Musée du Louvre', Monuments et mémoires de la Fondation Eugène Piot 40 (1944) 23–52.
Benoit (2008). – Monique Benoit, 'Ilana Löwy L'emprise du genre. Mas-culinité, féminité, égalité. Paris, Éditions La Dispute, 2006, 277 p. [book recension]', Recherches féministes 21, 1 (2008) 189–193.
Besnard (2017). – Tiphaine-Annabelle Besnard, 'L'Athéna Parthénos américanisée : de la sculpture d'Alan LeQuire au décor du film Percy Jackson, le Voleur de foudre', in: Fabien Bièvre-Perrin (ed.), Antiqui-pop (Lyon 2017). Online: https://antiquipop.hypotheses.org/2559.
Cixous (1976). – Hélène Cixous, 'The Laugh of the Medusa', Signs 1, 4 (1976, translation 1975) 875–893.
Delon (2014). – Gaspard Delon, 'Avatars du péplum ? Présences de l'Antiquité gréco-latine dans les genres cinématographiques du fan-tastique, de la fantasy et de la science-fiction', in: Mélanie Bost Fievet & Sandra Provini (ed.), L'Antiquité dans l'imaginaire contemporain. Fantasy, science-fiction, fantastique (Paris 2014) 65–79.
Dumont (2009). – Hervé Dumont, L'Antiquité au cinéma. Vérités, légendes et manipulations (Paris-Lausanne 2009).
Clasen (2012). – Mathias Clasen, 'Monsters Evolve: A Biocultural Ap-proach to Horror Stories', Review of General Psychology 16, 2 (2012) 222–229.
Cuvelier (2018). – Pierre Cuvelier, 'Le Choc des titans et ses répliques : diffusion et réappropriation ludique de nouveaux types figurés my-thologiques dans les arts visuels', in: Fabien Bièvre-Perrin & Élise Pampanay, (ed.), Antiquipop : La référence à l'Antiquité dans la cul-ture populaire contemporaine (Lyon 2018). Online: https://books.openedition.org/momeditions/3383
Jung (1966). – Marc-René Jung, Hercule dans la littérature française du XVIè siècle : De l'Hercule courtois à l'Hercule baroque (Genève 1966).
El Kenz (1992). – David El Kenz, 'Le roi de France et le monstre dans les gravures : genèse et déclin politique d'une image aux XVIe et XVIIe siècles', Matériaux pour l'histoire de notre temps 28 (1992) 3-7.
Gaignebet (1975). – Jean-Baptiste Gaignebet, 'Essai sur le cheminement d'Hercule au cours de l'Histoire de France', Provence historique 99 (1975) 111–124.
Harryhausen et Dalton (2008). – Ray Harryhausen & Tony Dalton, A Cen-tury of Model Animation. From Méliès to Aardman (New York 2008).
Hougron (2005). – Alexandre Hougron, 'La figure du monstre dans la littérature et au cinéma : monstre et intertextualité', La page des Lettres (2005). Online: https://lettres.ac-versailles.fr/spip.php?article28#s-References
Kerenyi (1959). – Karl Kerenyi, Asklepios, archetypal image of the physi-cian's existence (New York 1959).
Kokkorou-Alevras (1990). – Georgia Kokkorou-Alevras, 'C. Herakles and the Lernaean Hydra (Labour III) ', in: LIMC V, 1 (Bern 1990) 34–43.
Maréchalle (2018). – Stéphane Maréchalle, 'Portrait d'Henri IV en Her-cule terrassant l'hydre de Lerne', Petite galerie ! (Paris 2018). Online: https://petitegalerie.louvre.fr/oeuvre/portrait-d%E2%80%99henri-iv-en-hercule-terrassant-l%E2%80%99hydre-de-lerne
Mailley-Von Arx (1982). – Marie-Christine Mailley-Von Arx, 'Art grec ar-chaïque et rapport sociaux : pour une approche du fonctionnement de l'icône dans la société grecque archaïque', Dialogues d'histoire an-cienne 8 (1982) 283–302.
Murphyao (2015). – Amanda Murphyao, 'The Many-Headed Hydra: Monstrous Representations of Canadian Confederation and the American Civil War in Cartoons, 1861-1867, This dissertation is going to be fun, like dessert (Ottawa 2015). Online: https://dessertating.wordpress.com/2015/04/16/hydra/
Ogden (2013). – Daniel Ogden, Drakon: Dragon Myth and Serpent Cult in the Greek and Roman Worlds (Oxford 2013).
Shapiro (1990). – Harvey Alan Shapiro, 'Old and New Heroes: Narrative, Composition, and Subject in Attic Black-Figure', Classical Antiquity 9, 1 (1990) 114–148.
Ulrich (2010). – Stefan Ulrich, 'In der Hydra-Republik', Süddeutsche Zei-tung (14/10/2010). Online: https://www.sueddeutsche.de/politik/skandale-in-frankreich-in-der-hydra-republik-1.999892
Venit (1989). – Marjorie Susan Venit, 'Herakles and the Hydra in Athens in the First Half of the Sixth Century B. C.', Hesperia: The Journal of the American School of Classical Studies at Athens, 58, 1 (1989) 99–113.
Wolff (2018). – Nadège Wolff, '« Kid Icarus » : un héros antique qui peine à prendre son envol ? Du rétrogaming au retour en fanfare dans les années 2000-2010', in: Fabien Bièvre-Perrin (ed.), Antiquipop (Lyon 2018). Online: https://antiquipop.hypotheses.org/3833.
Zavadski (2014). – Katie Zavadski, 'Putin's Birthday Present Is a Hercules-Themed Art Show About How Manly and Amazing He Is', Intelligencer (6/10/2014). Online: http://nymag.com/intelligencer/2014/10/putin-birthday-present-hercules-art-show.html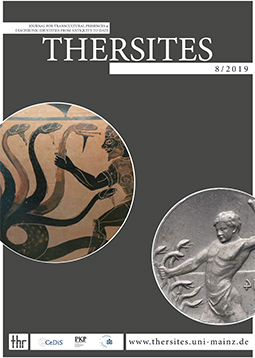 Authors who publish with thersites agree to the following terms:
Publishing in thersites is free of any charges.
Authors retain copyright and grant the journal right of first publication.
Users are allowed to read, download, copy, distribute, print, search, or link to the full texts of the articles, or use them for any other lawful purpose, without asking prior permission from the publisher or the author, so long as the original work is properly cited and is not used for commercial purposes. The journal is published under the Creative Commons Attribution 4.0 International License. More information about this license is available at https://creativecommons.org/licenses/by/4.0/.
Authors are able to enter into separate, additional contractual arrangements for the non-exclusive distribution of the journal's published version of the work (e.g., post it to an institutional repository or publish it in a book), with an acknowledgement of its initial publication in this journal.
Authors are permitted and encouraged to post their work online (e.g., in institutional repositories or on their website) as it can lead to productive exchanges, as well as earlier and greater citation of published work (See The Effect of Open Access).